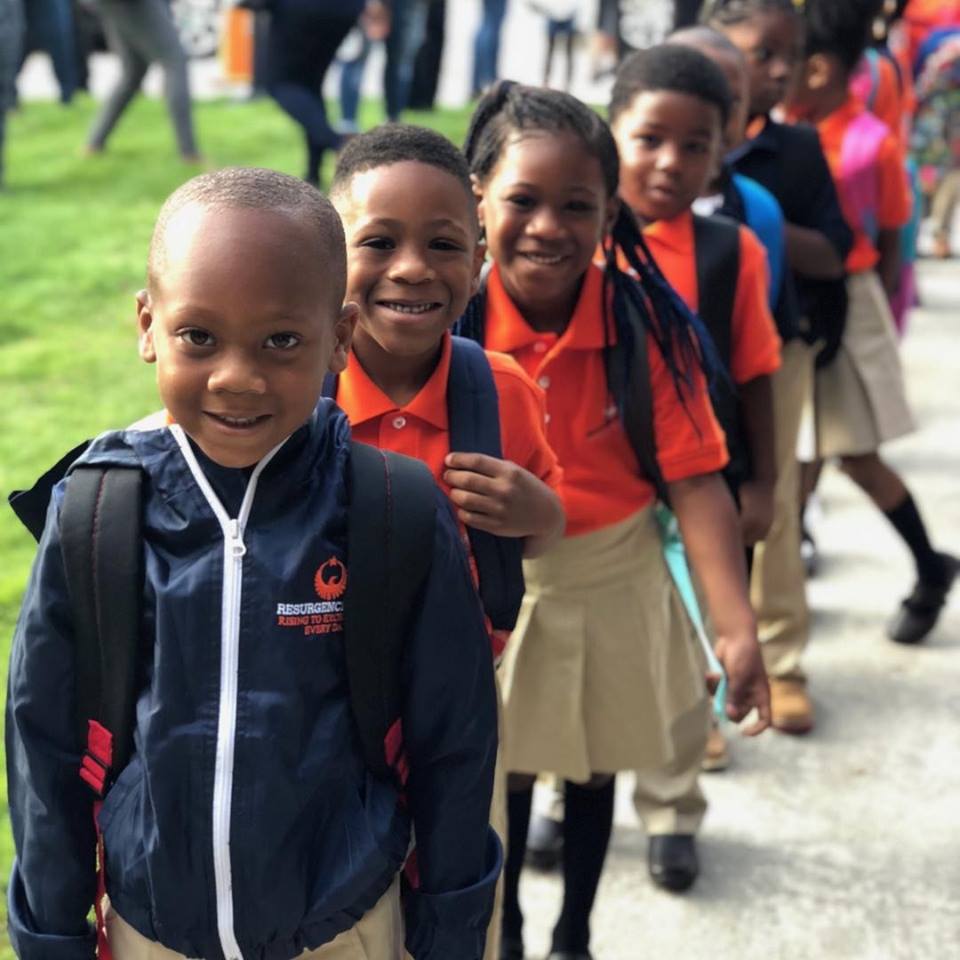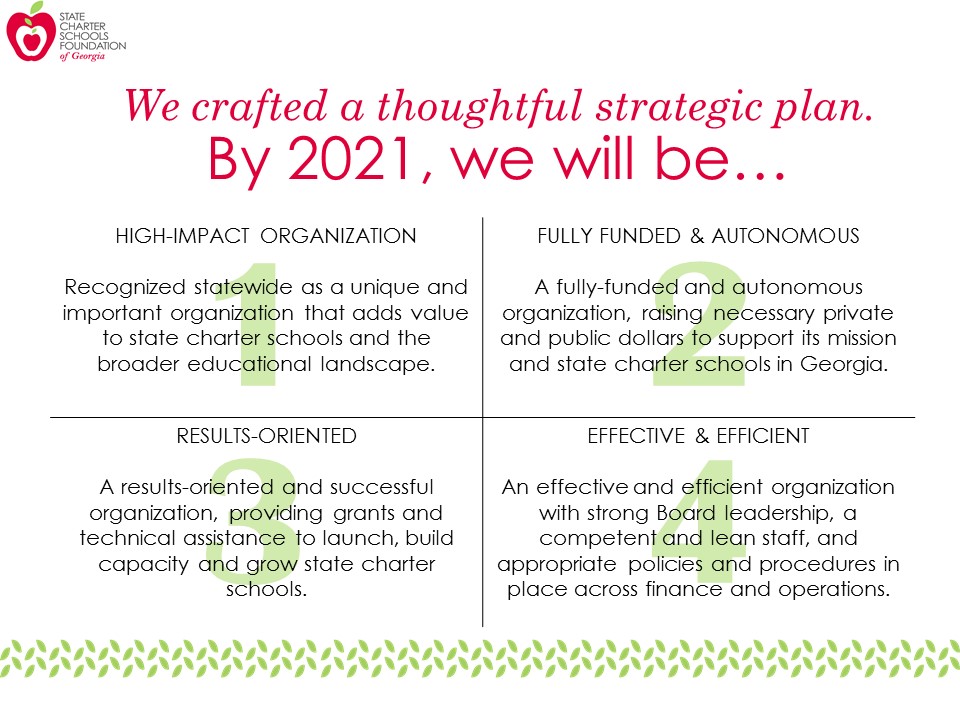 BACKGROUND
Georgia's first charter school law was passed in 1993 and was amended in 1998 to allow for locally approved charter schools.  In 2008, the law was amended to allow for a state commission to approve charter schools, however in 2011, the Supreme Court of Georgia ruled the commission law unconstitutional.  In 2012, a constitutional amendment was overwhelmingly approved by Georgia voters to allow for a new State Charter Schools Commission of Georgia ("Commission"). In addition to state authorization, the Commission was granted the authority to actively seek supplemental revenue from federal grant funds, institutional grant funds, and philanthropic organizations. As a result, the State Charter Schools Foundation of Georgia (SCSF or Foundation) was incorporated in 2015.
SCSF is a 501(c)(3) nonprofit  foundation established to leverage resources to advance education in Georgia through excellent state charter schools.  While the Commission played a role in the creation of the SCSF, the two organizations are separate and operate under the authority of two different governing boards and separate bylaws.  The Commission and Foundation both share an unwavering commitment to support state charter schools; however, the organizations play very different roles in terms of providing that support.   The Commission is the state charter authorizer (the entity charged with approving, evaluating, and holding state charters accountable for performance), and the Foundation is a 501(c)(3) nonprofit  foundation that makes strategic investments to support the planning, implementation, capital costs and growth of excellent state charter schools.
GEORGIA CHARTER LANDSCAPE
There are 33 charter schools authorized by the State Charter Schools Commission (SCSC) and are thereby "state charter schools."  Total enrollment for state charter schools exceeds 33,000 students in K-12th grade.  Per pupil funding for state charter schools made strides towards equity in the 2018 legislative session with the passage of House Bill 787, which brings state funding in line with other public schools.  However, state charter schools are not eligible to receive local tax revenue. This is why we need your support!
The per pupil revenue received by state charter schools must cover all expenses, including facility leases, debt services, capital  projects, and renovations.  This is not the case for traditional district schools that can access additional funding revenue through local taxes like SPLOST and bonds.
In essence, state charter schools must do more with less.  Knowing that, the State Charter Schools Foundation raises money and leverages additional resources to support state charter schools.
JOIN OUR TEAM
We do not have any current openings, but we are always looking for champions for state charter schools! Please email mneely@scsfga.org if you would like to be involved.
Board Meetings
Called Board Meeting - April 1, 2020, 1:00 p.m. via conference call - Click below for the agenda and related documents
To access this meeting, dial 888-808-6929, access code 5206746#
SCSF April 1 2020 Called Board Meeting Documents
For 2020, the State Charter Schools Foundation Board of Directors will meet at 2:00 p.m. EST on the following dates: January 29th, April 29th, July 29th, and October 28th. Board meetings are held in the SCSC Conference Room at 508 Twin Towers West, 205 Jesse Hill Jr. Drive SE, Atlanta, GA 30334.
The Executive Committee will meet January 21st at 11:30 a.m., and at 1:30 p.m. all other dates: February 21, March 20, April 24, May 22, June 19, July 24, August 21, September 25, October 23, and November 13. Meetings are held via conference call. For conference call access information, please email mneely@scsfga.org.
Please follow the link below for the most recent Board Minutes. View Board Minutes