Art of Connection - Exhibition of Student Art
Get ready for the 2023 contest!
The SCSF believes that encouraging children and teens to create art helps them form connections with the world around them. Artistic engagement helps children develop cognitive and emotional skills, giving them an outlet to express themselves and explore their own ideas.
Submissions will be accepted February 6-24, 2023. Digital images of art must be submitted through this website. Please provide original files or high-quality photos.
Awards
Three entries will be awarded prizes in each grade group! Awards will be determined by the combined scores from impartial judges who are professional artists and/or art instructors.
1st Place - $100 Amazon gift card & display at the SCSF office
2nd Place - $50 Amazon gift card
3rd Place - $25 Amazon gift card
Eligibility
All students who are currently enrolled for the 2022-23 school year at a state charter school in Georgia are eligible to participate.
See The Art of Connection Rules 2023 for all rules and requirements for participation.
We are looking for sponsors and judges! Please contact art@scsfga.org if you or your organization would like to support this program. Click here to become a sponsor now! Your company/organization's information and logo will be displayed on this site, social media posts, and all communication. 
For questions, please email art@scsfga.org.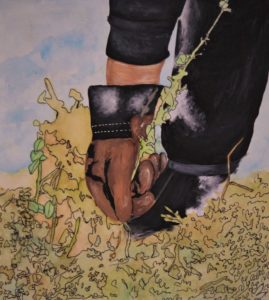 "A Helping Hand" by Kaitlyn L., Academy for Classical Education, High School 1st Place Winner 2022