2019 State Charter School Facility & Finance Analysis
The State Charter Schools Foundation of Georgia (SCSF), in coordination with Level Field Partners and with support from the Walton Family Foundation, completed an analysis of the state charter school facility landscape to assist state charter schools in overcoming barriers in providing safe and affordable buildings for students.
The report includes updated market trends for state charter schools and recommendations for reducing costs, keeping more public education dollars inside our classrooms.
Please find the complete report presentation here: SCSF_Georgia Facilities Landscape Analysis
Please find the executive summary here: SCSF_Georgia Facilities Landscape Executive Summary
Strategic Investment Priorities
The State Charter Schools Foundation of Georgia (SCSF) seeks to leverage resources from private and public charitable sources to help state charter schools launch, build capacity, and grow through a comprehensive approach that reflects the needs of the schools and the broader ecosystem in Georgia.
In 2018, the Board of Directors approved a three-year strategic plan to guide the work of the Foundation. We are supporting state charter schools by:
Presenting and promoting accurate and complete information to demonstrate the value of state charter schools for Georgia's families.
Raising funds and resources for state charter schools in Georgia.
Offering grant funds to support innovative initiatives at state charter schools.
Providing capacity building support for state charter schools.
Addressing state charter schools' facility needs to support safe, functional facilities.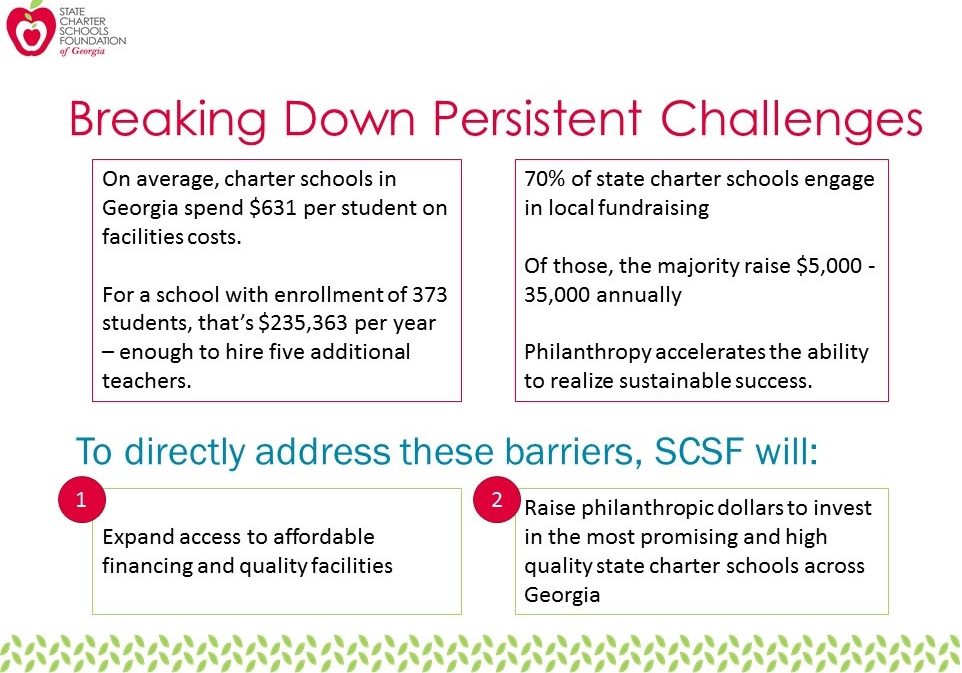 The Foundation is committed to other key activities
as a part of its strategy and ecosystem approach.
Building a network for state charter school educators to share resources and drive innovation.
Providing support to state charter schools to increase operational performance and fundraising ability.

Advocating for state charter schools and Georgia's children by sharing stories and information with business, philanthropic, and civic leaders