Art of Connection - Exhibition of Student Art
2021 Theme: How I Stay Connected to Others
The SCSF believes that encouraging children and teens to create art helps them form connections with the world around them. Artistic engagement helps children develop cognitive and emotional skills, giving them an outlet to express themselves and explore their own ideas.
This year's theme "How I Stay Connected to Others" invited students to express how they have stayed in touch with family, friends, and others during a time of quarantines and social distancing. Students also demonstrated the challenges they have faced connecting with others because of restrictions due to COVID-19. For complete details, see the full description and rules: The Art of Connection 2021
View our winners and all entries in the virtual gallery! Read the artist statements from our winners: Art of Connection 2021 Winners Statements. Read the press release: News
For questions, please email art@scsfga.org.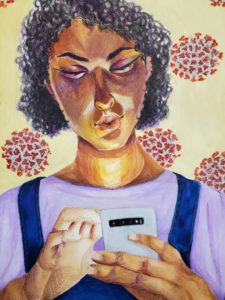 "Phonelight" by Audrey N., Academy for Classical Education, 1st Place High School Winner
Thank you to our judges from Georgia's art community!